We have wide range of Evaluation Systems. Our equipemnt are in high demand in India and also exported to countries all over the world.
---
AMP-031401 :
STEADINESS TESTER-HOLE TYPE
(Electrical)
| | |
| --- | --- |
| | Designed to measure an aspect of Psychomotor phen-omina of steadiness.Tester provides an inexpensive means to access activity level and attention capa-city. The subjects task is to hold the stylus in nine different holes of diminishing size without touching the sides or base plate. Tester is fitted with a Timer, Good score counter & Fault counter. A audible tone and visual red indicator responses and provide immediate feed-back of performence. |

AMP-031403 :
LINEAR MOTION STEADINESS TEST APPARATUS
(Electrical)
| | |
| --- | --- |
| | Linear motion steadiness test unit is designed to progressivelly measure One's aspect of psychomotor control. Patient moves a ring stylus through a progressively increasing stainless steel rod to measure subject's performance of Hand movement. A beep gives the feed-back while stylus touches the rod. Distance of movement can be measured and recorded. |

AMP-031404 :
PENCIL MAZE TEST BOARD
| | |
| --- | --- |
| | This durable pencil maze can be used to assess coordination or learning problems. The bottom has a hard surface to prevent grooving, and it uses a paper to produce a permanent record of subject's performance. Can be used with blind-fold goggles. |

AMP-031406 :
TREMOR QUANTIFIER
(TALKING PEN)
A wonderfully motivating multi-sensory tool to improve fine motor coordination, visual-motor skills, midline crossing, form and directional understanding, motor control, auditory discrimination & hand writing skills. The fiber-optic pen traces patterns. When its tip strays from the line, it senses a change in reflected light and activates auditory and visul feedback. A control switch adjusts tip sensitivity and feedback volume.

Unit comes ready to use with preprinted patterns and instruction manual.

AMP-031407 :
HAND TAPPER TEST BOARD
(Electric)
| | |
| --- | --- |
| | The task on this apparatus is simply to tap, with a Stylus, as rapidly as possible,on the Two stain-less steel pads, located at each end of an 18" long Teakwood board with storing space.Unit fitted with Event Counter & Timer to record the progress. |

AMP-031415 :
PINCH GUAGE ELECTRONIC
(TABLE MODEL)
| | |
| --- | --- |
| | This electonic dynamometer assures a high degree of accuracy for measuring finger tip pinch force. Unit is calibrated in kilograms and digital indi- cator remains at highest level of strength. Reset button returns indicator to starting position. Ex-cellent for traning & evaluating the pinching ability. Unit comes in attractive carrying case. |

AMP-031417 :
HAND DYNAMOMETER
(PORTABLE)
| | |
| --- | --- |
| | Specifically designed spring scale to measure grip force from 2kg to 25kg is attached to a gripping unit that permits maximal isometric contraction. A knob on the metal frame permits instant adjustment to any hand size proportion. Scale provides immediate readout. All steel construction with bright chrome finish. |

AMP-031418 :
HAND-GRIP DYNAMOMETER
(Digital)
Hand-Grip Digital Dynamometer with electronic Strain-gauge is engineered for routine screening work & for evaluating maximum strength of subjects grip. Unit can be fixed on wall or on stand. The sealed system with peak hold facility, register force in 1kg graduation from 0 to 99kg, ensuring a high degree of accuracy.
Sports complex needs the unit for Sports persons and medical colleges and hospitals need it for evaluating trauma or diseased hand.

AMP-031428 :
ARM-LEG & BACK DYNAMOMETER
| | |
| --- | --- |
| | Arm, Leg & Back pull dynamometer is specifically designed to measure lifting strength. The package includes an accurate round scale with double pointer to measure pull force from 1 kg. to 200kg. The double pointer design retains maximum reading until manually reset. The Scale is fitted with an heavy duty connecting Chain and solid Lifting Bar on a platform, covered with corrugated aluminum sheet for firm foot hold. |

AMP-031429 :
STRENGTH EVALUATION SYSTEM
(Digital)
| | |
| --- | --- |
| | The Arm-Leg & Back Pull Digital Dynamometer, is a simple and accurate system to measure / register 5 kg. to 200 kg. of pull force of the subject with peak hold facility. The hardware consist of sturdy plateform with an auto-adjusting solid lifting Bar mechanism, a Strain-gauge Transduscer & a Monitor with large LCD readouts that display and Hold Peak Force in kilograms. Suitable for Arm, Leg and Back strength evaluation. |

AMP-031431 :
FINGER GONIOMETER
(Stainless Steel)
| | |
| --- | --- |
| | A simple & accurate device for measuring range of motion of small finger joints (I.P and M.P joints) Constructed of stainless steel. Comes in a pouch for storage. Unit measures about 14cm. in length. |

AMP-031432 :
GONIOMETER, 180°
(Stainless Steel)
| | |
| --- | --- |
| | A simple and accurate device to measure joint's range of motion. Stainless steel construction. Two 180°scale in opposite direction for convenient reading of all angles. Comes in a pouch for storage Unit measures about 50mm x 200mm. in length. |

AMP-031433 :
GONIOMETER, 360°
(Aluminum)
| | |
| --- | --- |
| | Four,0 to 90°, Two,0 to 180° & One,0 to 360 degree scales in 5 degree increments to read Range of Motion. Aluminum sheet construction with a locking arm. Knurled knob adjusts arm tension or fully locks the arm. Overall length 30cm. Comes in a beautiful pouch for storage. |

AMP-031434 :
GRAVITY INCLINOMETER
(360ř)
| | |
| --- | --- |
| | This goniometer can accurately measure the movement of most of the body's joints. This easy to use device is placed on the appropriate body part, closet to the axis of movement, with hook and loop strap. Ideal for measuring typical difficult areas such as the cervical spine (rotation, flexion, extension & lateral flexion) and lumber spine. |

AMP-031441 :
HAND TOOL TEST FRAME
| | |
| --- | --- |
| | This hand tool test measures proficiency in using ordinary mechanics tools. The test consists of tools & two uprights with bolts. The object is for the subject to disassemble all the bolts from one one upright & reassemble them on the corresponding rows of the other upright with the heads of the bolts inside. This type of skill is important in many different factory jobs. |

AMP-031443 :
FINGER DEXTERITY TEST
(100 Holes & Tweezer)
Tests manipulative dexterity of right & left hand, individually & simultaneously. Measures dexterity in activities involving gross movements of fingers hand & arm; also measures efficiency in activities involving primarily "tip of the finger" dexterity. Specialized test requires using tweezers to place pins in holes requires precision, steadiness, and a high degree of eye-hand coordination.

Set consists of :

Laminated board has 100 holes to place in pegs & covered recess to store parts.



Tweezer S.S.



Plain pins S.S.



Screws, washers and nuts.

AMP-031444 :
KEY HOLE TEST BOARD
| | |
| --- | --- |
| | Hinged box board with randomly positioned key-hole shaped 25 slots. Patient must insert metal pegs in to the hole and line up slot to insure proper fit. This test requires more complex visual-motor coordination and is helpful in evaluating lateralized brain-damage. |

AMP-031446 :
COUNTING and COLOUR SORTING BEADS SET
| | |
| --- | --- |
| | Manipulative for Counting, Colour recognition & Eye-Hand co-ordination. The box contains ten s. s. wire rods & 100 plastic beads in five different colours Wire rods fit in the lid of the box. Patient put differently coloured beads in different wires. |

AMP-031447 :
SORTING - MATCHING - POSTING BOX SET
| | |
| --- | --- |
| | Colour Sorting, Matching and Posting box with 25 well polished plastics plates in 5 different colours. Measures an individuals basic level of function in the area of colour identification and Eye-hand co-ordination. |

AMP-031448 :
PUZZLES PROGRAMME SET WITH STORAGE CASE
(Assorted Puzzles)
| | |
| --- | --- |
| | The sets of FIVE knobbed & plain puzzles have been specifically designed to provide exceptional children with much needed pratice in eye-hand coordination and visual perception. Each puzzle is simple and provide success experiences as well as needed drill. The puzzle depicts objects which a handicapped child would be likely to recognize. Fruits, vehicles and animals are all excellent subjects. Each puzzle picture is illustrated in vivid colour on a wooden plaque. Contains large easy-to-fit pieces. |

AMP-031451 :
BODY-PARTS PUZZLE KIT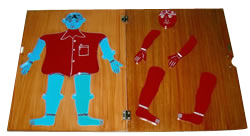 An excellent manipulative aid for teaching body image awareness. Wooden body puzzle has 6 large parts, as children fit the body together, they begin to see & understand the relationship between body parts and parts to whole. Body puzzle is 45cm. long with two facial expressions, comes in a hinged box.

AMP-031454 :
FINGER PREHENSION DEVICE
| | |
| --- | --- |
| | Heal, evaluate and develop finger dexterity with this 40x15 cm Finger prehension device. Four stainless threaded rods from 1/4" to 3/4" offer a span of steel test possibilities. Patient threads a large coupler from one end of a rod to the other & then progress to a smaller diameter. |

AMP-031836 :
SOUND DISCRIMATION SET
| | |
| --- | --- |
| | Consists of 2 boxes, each containing six cylinders. Cylinders contain various materials in pairs, and when shaken produce different sounds. The child may pair cylinders with identical sounds or arrange a set of cylinders in order of loudness. |

AMP-034806 :
HAND EVALUATION KIT
(Imported, Jamer)
Hydraulic Hand Dynamometer is designed for both routine screening work and for evaluating trauma or diseased hands.High quality cast aluminum model has an adjustable handle that can be placed in FIVE grip positions,the range allows a comfortable fit for almost any hand. A sealed hydraulic system registers force from 0 to 90 kgs. Set also consists one therapeutic Pinch Gauge that measures finger tip pinch force. Excellent for training and evalua-ting the pinch ability of the upper extremity prosthesis user. Indicator pin remains at highest level of strength. Model; Jamer, USA.

Kit includes ONE each of:-

* Hydraulic Hand Dynamometer.
* Hydraulic Pinch Gauge.
* Finger Goniometer.
* Comes in a convenient storage / carrying case.


AMP-031961 :
CAPTAIN'S LOG
(Computerized Mental Gym)
Comprehensive set of computerized cognitive training programs. The CD-ROM SOFTWARE consists of 33 multi-level "brain training" exercises designed to help develop & remediate attention, concentration memory, eye-hand coordination, basic numeric concepts problem solving-reasoning skills, self-esteem and self control. For Ages 6 and up. Comes with suitable work station.

NOTE: Internet connection is required for loading of SOFTWARE & Assistance in future from the company in USA.