We have wide range of Positioning Equipments. Our equipemnt are in high demand in India and also exported to countries all over the world.
---
AMP-031501 :
RELAXATION CHAIR
(with adjustable incline & tray)
| | |
| --- | --- |
| | Hardwood & ply board constructed, naturally finished Chair reclines through an arc and can be adjusted to any desired position. Comes with adjustable foam padded headrest which can be formed & reformed as needed. High back supports & holds the child with wide belt. Laminated activity Tray size 56cm x 63cm with polished wooden raised edges, holds the items from falling. Adjustable Seat & Footboard are 30cm wide and suits the small children. Mounted on ball bearing castors. |

AMP-031781 :
SITTER with MOBILE TILT WEDGE , Size-1 (USA)
SITTER: The soft, supportive Sitters provide comfortable alternative sitting. The Sitters are peel and tear resistant, impermeable to fluids and with stand cracking.

Mobile Tilt Wedge: Tilt wedge allows up to 25 degrees of tilt to ensure proper positioning for each child. Wedge moves on four swivel casters. Two rear wheels are lockable for safety.

FEATURES:
1. Model 5533-88 (USA)
2. Soft contoured seat.
3. Contoured lateral and head supports.
4. Adjustable 5-point positioning harness.
5. Attachment straps.

Dimensions of Size-1:
* Target Weight, 9 kg to 18 kg.
* Target Height, 75cm to 100cm.
* Target Age, 1 to 3 years.

AMP-031502 :
FLOOR SITTER
(Corner Chair)
| | |
| --- | --- |
| | Wooden corner chair, with broad base that helps to prevent tipping, has a padded seat, sides and back support. An abductor block, hip positioning belt, and removable tray are the integral part of the floor sitter. Unit finished in natural wood polish. |

AMP-031503 :
STAND-IN-FRAME
(Adult)
| | |
| --- | --- |
| | Basic standing frame, comfortably supports weight-bearing parts of the body. Helps prevent atrophy of leg muscles, improves range of motion, helps improve circulation, lessens muscle spasms and contractions Frame is made out of best quality teak wood and is fitted with a laminated top tray. Three straps are provided for heel, ankle and pelvic support. Natural wood polish finish. |

AMP-031504 :
STAND-IN-FRAME
(Child)
The durable, functional vertical stander with four points of support provide the therapeutic benefits of standing and places children at peer level.

FEATURES :

Height-adjustable Chest, Pelvic & Knee supports.



Adjustable foot restraints.



Detachable rimmed tray for activities.



Chrome-plated uprights fitted on non-slip matted foot board.

AMP-031505 :
Stand-In-Table
(one place)
Individual, laminated top is 36" x 24" deep and has a rim all around to keep toys from falling, standing box is 14"wide x 10"deep. Standing platform with leg divider is adjustable for height and has hinged door. A special back support is fitted toreduce the depth of the box.

SPECIFICATIONS:
1.Construction: Legs & Frame of Teak-wood. Laminated Top of plywood. Box made of Teak-Ply with Foam padded knee support.

2.Finish: Natural polished wood finish.

AMP-031507 :
STANDING POSITIONER
(Child)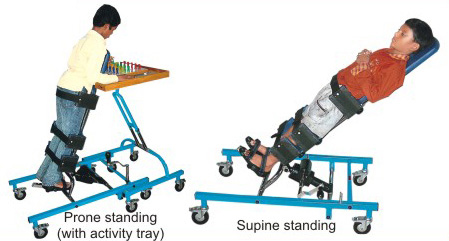 The unique designed Stander can provide a variety of standing positioning like Prone, Supine or Vertical, to enable severely handicapped children to maintain a standing position for various activities. Padded Knee rest and Chest support adjust up or down the centre column; footboards with adjustable toe & heel loops adjust in or out from centre column: leg abductor pad adjusts vertically, removable stabilizer pad is positioned against the buttock for maximum support. The Prone stander maybe adjusted from Horizontal to Vertical (40 deg to 90 deg)through a gear system. An activity tray on wheels is also provided with the unit. The Unit accommodates children from 90cm to 140cm in height.

Adaptive positioning provides stability & support for those lacking full body control. Firm comfortable foam wedges help proper positioning in the Prone & Supine position and for achieving greater gross & fine motor skills. Sizes of Wedges are:


Elevation            Base 
a, 15cm     x    60cm x 70cm.  
b, 20cm     x    60cm x 70cm.    
c, 25cm     x    60cm x 70cm.    
d, 30cm     x    60cm x 70cm.   


Wedge Features :

Foam filled wedges covered with Nylon / Tetron.



Fitted with Velcro strap to position the child.



Comes with Add-on Leg Abductor Wedge, attaches with Velcro strip.




Available individually or in Set.

AMP-034080 :
Bean Bag
(Body Positioner)
| | |
| --- | --- |
| | Provide customized, semi-permanent positioning when temporary positioning is needed. Bag with 27" dia.is filled with styrene beads which mold to the child's body shape. Can be used to accommodate structural deformities and is also appropriate for temporary posture correction. |