We have wide range of Exercise Units which are economical and have lots of flexible features. Our equipemnt are in high demand in India and also exported to countries all over the world.
---
AMP-031462 :
SANDING UNIT(Reciprocal Exer)
(with Incline)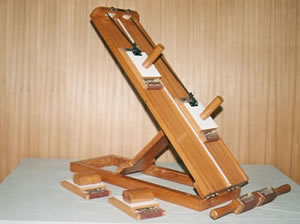 Consists of two wooden hinged planks. Upper plank's angle of inclination can be adjusted from hori-zontel to vertical position. Two pulleys are fitted at the top of 30cm wide upper plank for reciprocal hand-shoulder exercises. Three sets of sanding hand blocks with different grasp holds are provided with the unit. Sanding blocks create resistance for exercises. Unit is finished in natural wood polish.

SPECIFICATIONS :
Upper Plank. : 30cm x 100cm high with center divider with measuring tape.



Lower Plank. : 30cm wide with 6 slots to hold upper plank for angle adjustment.



Sand Blocks. : 3 pairs, with different grasp holds & clips to fix sand-paper.



Construction. : Teak-wood constructed & finished in natural wood polish.

AMP-031463 :
Sanding Unit Semicircular
(with wall mounting)
Semicircular Teak-wood plank, fitted with Two wall brackets for Wrist, Arm & Shoulder Exercises.

SPECIFICATION:
*Size: 20cm wide X 100cm dia. approx.

*Block: One, Sanding block roller type.

*Construction: 22mm thick,Teak-wood constructed plank & Polished natural wood finish.

AMP-031464 :
SANDING UNIT SEMICIRCULAR
(Table Model)
| | |
| --- | --- |
| | Hard wood constructed sanding unit, mountable on table,with a roller block gives bilatral resistive wrist, elbow & shoulder exercises. Roller is covered with felt for resistance. |

AMP-031465 :
SANDING UNIT VERTICAL
| | |
| --- | --- |
| | Wooden, wall mounting sanding unit: 20cm wide x 100cm long is fitted on an angular frame for angle adjustment and comes with six weight plates (1kg.)for resistance. Comes with One sanding block. Patient uses the unit for shoulder & arm exercises in standing position. |

AMP-031466 :
SANDING UNIT OVERHEAD
| | |
| --- | --- |
| | Heavy & wide based stand adjustable in height, is fitted with 6" wide semi circulator wooden plank. Patient moves sanding block over the plank to increase it's ROM of Shoulder. Emery cloth adds resistance to patient's efforts. Metallic stand finished oven baked and height adjustment pipes are chrome plated. |

AMP-031467 :
HORIZONTAL SANDING TABLE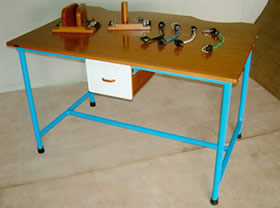 Wooden Sanding Top is fitted on an tubular frame, having two cut-outs to accommodate two patients. One side is fitted with bar to attach elastic straps for resistive exercises. Comes complete with two sanding blocks and four elastic straps. Size: 115cm x 75cm x 75cm high.

AMP-031469 :
QUADRICEPS EXERCISE CHAIR
(Children)
| | |
| --- | --- |
| | Hardwood constructed chair with cushioned seat and back is provided with an adjustable laminated incline ramp, Six laminated wooden blocks and a storage box. Child pushes the blocks from the ramp to the box for ankle, knee & hip exercises. |

AMP-031471 :
SAND & WATER TABLE
| | |
| --- | --- |
| | For development of tactile experiences and sensory motor skills. Table is constructed of hardwood with stainless steel pan & comes with cover in two part Size: 60cm wide x 120cm long x 60cm high. The pan is 20cm deep to hold water or sand. Six gardening tools are provided for group activities. |

AMP-031472 :
WAX-TRAY
(Electric, with Carving Tools)
| | |
| --- | --- |
| | Recreation tray for patients to draw or write on wax. The stainless steel tray is 24" long x 18" wide x 2" deep with wax melting heaters for melting the wax after play and is fitted with thermostate.Mounted on a tubular stand. Complete with carving tools set. |

AMP-031473 :
Multi Purpose Wheel
(Children)
Tubular steel constructed frame with roller wheel, rope, weight cart & two handles on both sides for Shoulder, Elbow & Supination / Pronation exercises.

SPECIFICATION:
*Frame: 25mm & 18mm dia. tubular frame.

*Resistance: Wooden pull-cart can be stacked with weights to build load for resistance. Supplied without weight.

*Finish: Oven baked finish.

AMP-031475 :
SUPINATOR AND PRONATOR
(RAINBOW TYPE)
| | |
| --- | --- |
| | Patient moves 6 brightly coloured laminated wooden rings from side to side, improving ROM, developing eye-hand coordination, strengthening crossing-mid- line. Chrome plated arc is fitted on a wood base. Ideal treatment modality for limited upper extre-mity range of motion. |

AMP-031476 :
SUPINATOR & PRONATOR
(Zig-Zag Type)
| | |
| --- | --- |
| | Bright laminated Six wooden discs & Six metal rings slide smoothly along coloured wire maze, mounted on a laminated base. Convenient way to build range of motion, arm, wrist, hand, and finger proficiency. |

AMP-031481 :
INCLINED TAPERED BALANCE BEAM
| | |
| --- | --- |
| | Hardwood constructed balance beam is 185cm. long & walking surface is covered with non-slip mat. The unit has a gradual increase in incline from 7cm to 15 cm. and gradual taper from 8 cm to 15 cm. |

AMP-031482 :
SLANTED WALKING BOARD
| | |
| --- | --- |
| | Unique balance board activity provides slanted surfaces for walking. Slanted boards are adjustable to slant from inside to outside at 15,30 & 45 deg. angles. Constructed of hardwood 70"long X 12"wide. |

AMP-031486 :
Inclined Mat
(medium size 180x90x40cm)
Excellent for rolling, tumbling and crawling activities. Safe, soft foam mats encourage participation and may be utilized individually or as part of an obstacle activity.

Size 180 cm x 90 cm x 40 cm.

AMP-031487 :
Inclined Mat
(large size 185x120x40cm)
Excellent for rolling, tumbling and crawling activities. Safe, soft foam mats encourage participation and may be utilized individually or as part of an obstacle activity.

Size 185 cm x 120 cm x 40 cm.

AMP-031491 :
IMICO ROLLS
(Bolster)
The foam padded bolster is covered with bright colour Nylon / Tetron cloth. It has a solid plastic core & is suitable for Rolling / Rocking exercises


Comes in following sizes :-
(A). Dia. 15cm x 60cm  Long
(B). Dia. 20cm x 90cm  Long
(C). Dia. 25cm x 90cm  Long
(D). Dia. 30cm x 90cm  long
(E). Dia. 40cm x 120cm long

Available individually or in set.

AMP-031500 :
PRONE CRAWLING BOARD
| | |
| --- | --- |
| | Unit helps the child learn body control, shifting weight, changing directions and maintaing balance. Sturdy foam padded wood crawler is fitted with four swivel casters. Measures 30cm x 90cm x 10cm. |

AMP-031500(A) :
ROUND SCOOTER BOARD
Rolling is basic to neuro-motor control, this board will help children as they swivel, roll, rotate or move in any direction. Children with muscular dysfunction can use either hand, arm or legs to propel the board. Rugged construction for hard use.

FEATURES :

Measures. : 24" in diameter.


Hold Handles. : Two Handles for child to hold.


Casters. : Six heavy duty 50mm dia. casters.


Top. : Rexene covered, Foam Padded.

AMP-0315009 :
Vestibular Board
(large size)
Rocking the body on board stimulates balance control with Vestibular Responses.

Size 60"x 30".

The top is thickly upholstered and covered with rexine and washable fabric cover.

AMP-031512 :
Vestibulator / Swing System
(with attachments)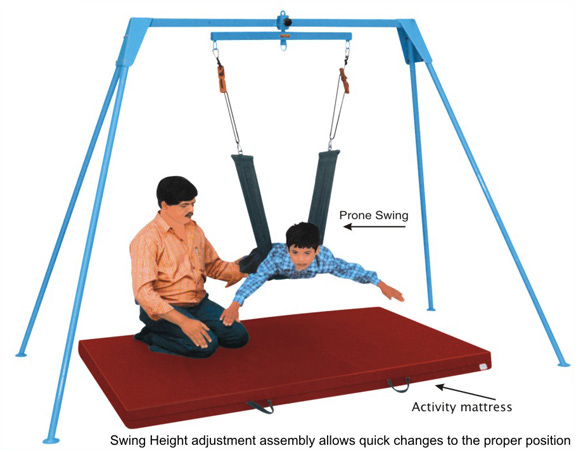 Vestibulator / Swing System provides a wide range of therapy modules for Vestibular, Neuro-developmental and Sensory Integration therapy.System provides vertical stimulation & direct flexion, linear acceleration, rotational experiences and complete range of motion exercises.

It also incorporates 360 degree vertical rotation system for a smooth, unrestricted range of movement to create vertical & rotational stimulation at the same time.

The Swing System includes the following:

*Durable metal frame with rope & ascenders.
*Prone Net Swing.
*Flexidisk Swing.
*Platform Swing.
*Roll Swing.
*Thick Foam Mat.
*Hammock Swing.

AMP-031837 :
TACTILE NUMERALS KIT
| | |
| --- | --- |
| | Visual discrimination and memory are essential attributes in recognition of numerals. With this set, children experience three-dimensional numeral shapes, explore negative space & select the numeral that matches the wood block inset. As a first step toward numeral writing, these thick blocks can be explored in tactile fashion, traced with fingers, then with writing tool on paper. Each numeral is set in a solid wood block 10cm x10cm x2.5cm thick. |

AMP-033125 :
ACTIVITY MATTRESS
| | |
| --- | --- |
| | All purpose lightweight mat of high density foam, protects body during exercises. The floor mat size 116cm x 190cm x 10cm is covered with nylon cloth & sewn with superior strength nylon thread. Loops on sides are provided for hanging on wall. Excellent for aerobics and light exercises. |