We have quality products in Traction Aids. All our models are efficient and display quality in Physiotherapy Equipments.
---
AMP-032725 :
AKAY HI-TRAC UNIT
(Computerised, with bed, Preprogrammed)

Akay Hi-Trac, micro-computer controlled unit for INTERMITTENT/CONSTANT, LUMBER-CUM-CERVICAL TRACTION is based on solid-state circuitry. The Three section, fixed Height painted Bed with storage cabin underneath is an integral part of the unit.

TECHNICAL SPECIFICATION :
Therapy Modes : EIGHT Traction Modes for either Lumber or Cervical Traction,in Progressive, Regressive, Intermittent & Static modes etc.



Memory/Programme : 30 Treatment Patterns can be programmed & stored in non-volatile memory. (24 Programmes are feeded and Six programs are Free).



Traction Force : Adjustable from 5 kg to 60 kg.



Base Force : Adjustable from 0 kg to 54 kg.



Traction Hold Time : Adjustable from 0 to 99 Sec



Base Trac Hold Time : Adjustable from 0 to 99 Sec



Treatment Time : Continuously adjustable from 0 to 99 minutes, with acoustic signal & automatic reduction of traction force.



Displays : Digital display of Traction Force, Base Force, TF Hold Time BF Hold Time, Treatment Time & Graphical Display of Trac. Mode



Couch/Bed : Fixed Height-70mm,foam padded top is divided in Three sections. Head section has an adjustable incline



Accessories : Adjustable Flexion Stool, Head-Halter, Pelvic & Thoracic Belts.



Auto-Tension-adjustment : The set traction force is automatically maintained throughout the operation.



Patient Safety : Patient Stop, hand held switch.



Power Supply : 220-240 V AC. (use stabilizer).

AMP-032728 :
NICE-TRAC TRACTION UNIT
An Intermittent traction machine is an accurate & sturdy unit. Works on solid state circuitry with reliable, silent & smooth geared motor.

FEATURES :

Traction Force : Direct Pulling 5 to 45 kgs, With Doublers upto 90 kgs.



Hold Time : 20, 40, 60 & 80 seconds.



Rest Time : 1, 5, 10 & 20 seconds.



Treatment Time : 60 mins. with digital display.



Alarms. : At the end of treatment time.



Safety. : Patient safety switch.



Mounting. : Table or Wall mount.



Accessories. : Cervical Head Holder with Bar, pelvic & thoracic belts, Pulley Doubler.




AMP-032729 :
TRACTION CHAIR CERVICAL
| | |
| --- | --- |
| | Traction chair cervical useful in applying cervical traction. Chair adjusts easily with hand crank up to 45ø for proper flexion. Chair frame is of tubular steel with durable oven baked finish. Thick upholstery covers the seat and back rest. Overall dimensions are 56cm wide x 90cm long with 4 ball-bearing casters with brakes. |

AMP-032730 :
TRACTION TABLE
(Fixed Height)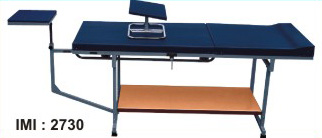 The fixed height upholstered traction table is ideal for horizontal cervical and lumber traction. The lumber section rolls freely on nylon rollers for friction free lumber pull. This section can traction angle is controlled by vertical adjustment of the Machine mounting board. The table is 183cm long x66cm wide x 76cm high and comes complete with Storage Shelf & a Flexion Stool.

AMP-032731 :
TRACTION TABLE
(Fixed Height)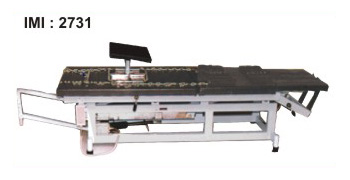 Comfortable Hi-Lo Electric, THREE section table is suitable for TRACTION & TREATMENT Manipulation. Suitable for IMI-2721 OR IMI-2725 Traction Unit.

FEATURES:
Height Adjustment: Electrically, with hand switch, from 50cm to 95cm.


Upholstered Top Size: 195cm long x 70cm wide.


Sections: THREE Sections, drop end section with Nose cut out adjusts from -20 to + 20 deg. Non-friction rolling Lumber section Tilts 60 degree above horizontal.


Traction Support: Traction unit can be bolted to an end, for Cervical & Lumber traction.


Accessories: Traction Belts, Head-Halter and Flexion stool.


Power Supply: 220V AC.



AMP-032745 :
TRACTION SET CERVICAL
(Wall Mounting)
75mm long unit is made out of M.S.tube of 70x20mm. Closed at both ends, welded with a square wall plate having holes and J bolts for fitting in the all. Two nylon pulleys fitted within pipe itself for friction free movement.

Complete set comes with a simple to use Head Halter, Spreader bar, nylon cord and a set of 9 kg weights with hanger.

AMP-032747 :
TRACTION SET CERVICAL
(Over Door Model)
Two steel pulleys fitted in a duck shaped steel frame, that fits over a door and requires no screws or nails. Set comes complete with foam padded head halter, 12" long spreader bar 8' long cord, a weight carrier weighing about 1kg and set of 6 weights i.e. 3 weights of 2kg each 2 weights of 1kg and 1 weights of kg.

Total weight comes to 9kg.

AMP-032748 :
TRACTION KIT CERVICAL
| | |
| --- | --- |
| | Two steel pulleys fitted in a duck shaped painted steel rod frame, that fits over a door and requires no screws or nails. Set comes complete with foam padded self adjusting head holder, spreader bar with nylon rope and a (sand/water) weight bag. |

AMP-030071 :
SKIN TRACTION KIT
(Used as below knee traction)

AMP-030072 :
ANKLE TRACTION KIT
(Support traction to lower spine, lower leg)

AMP-030073 :
CERVICAL TRACTION KIT Sleeping
(Traction in cervical Region)

AMP-030075 :
PELVIC TRACTION KIT
(Designed to control traction for lower back)