We have quality products in General Treatment Equipment. All our models are efficient and display quality in Panchakarma (Ayurvedic) products.
---
AMP-033111 :
EXAMINATION COUCH
(wooden)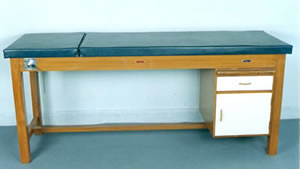 Standard treatment cum examination couch with vinyl upholstered well padded top, is provided with adjustable backrest which can be adjusted in height for desired position, top is mounted on sturdily built, natural finished, solid hardwood legs.

SPECIFICATION :
Top : 182cm x 61cm x 80cm high, well padded 40mm thick top is divided in two sections



Backrest : 46cm long can be continuously adjustable in height.



Storage : one writing board, one drawer with small cupboard is provided underneath the top for storage.

AMP-033113 :
EXAMINATION/TREATMENT COUCH
(Metal)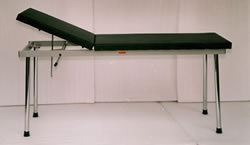 Basic treatment cum examination table with vinyl upholstered Two-section well padded top, size 180cm x 60cm with a fixed working height of 80cm.Backrest is 67cm long and is easily adjustable for desired position. Top is fitted on painted heavy duty rectangular steel pipe frame and mounted on Four, chrome plated, 37mm dia. tubular legs for stability. (Legs are easy to assemble with a few basic tools).

AMP-033115 :
HIGH-LOW TREATMENT TABLE
(Electrical)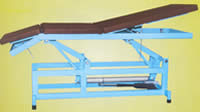 Electric, variable height, three section table is suitable for all treatments, including manipulation Both ends elevats so that the back or legs can be raised without turning the patient. One end also lower 20 deg. for some postural drainage & manipulation techniques and more comfortable sitting.

The foam padded top is 195 cm long and 70 cm wide. Table height is adjustable from 50 cm to 90 cm.

Frame-work in light blue oven baked finished.

AMP-033120 :
TILT TABLE
(Manual)
Manually operate Tilt Table comes with Three wide straps to hold the patient. Works to standing position manually with worm gear arrangement. Range of tilt is calibrated from 0-90 deg.

The uphosltered table top is 61cm wide x 195cm long x 80cm high,and is fitted on heavy duty 35mm square steel tube legs. Mounted on four lockable 10cm dia. wheels for mobility. Table comes complete with an Utility Tray & Two Gripping Handles for A.D.L. activities.

Frame beautifully finshed in oven baked light blue shade.

AMP-033153 :
VIBRATOR / MASSAGER
(Electrical)
Hand-held portable, heavy duty, vibrator with wide base.

Works on 220V AC.

AMP-033583 :
FOOT STOOL WOODEN
(Double step)
| | |
| --- | --- |
| | Ply board / Hard wood constructed foot stool with sturdy legs and natural wood finish is fitted with non –woven matting. Size: 50cm long x 30cm height in two steps. |

AMP-035052 :
MOBILE TREATMENT STOOL
| | |
| --- | --- |
| | Valuable when working with children, administering mat program or other floor activity. Seat height 43cm. Oven baked tubular steel frame with foam padded seat and mounted on 4 ball- bearing swivel casters. |

AMP-033155 :
COMPRESSION THERAPY UNIT
(MEDOMER)



Medomer air massager simulates the action of mascullor contraction and relaxation by repetetive inflation and deflation of the air chambers in automatic controlled sequence thereby promoting lymphatic and venous circulation.

The unit works on A.C.220V, and a linear air compressor features low noise and easy maintenance. Pressure range is adjustable between 60-100 mmHg. An automatic timer is fitted on the panel to prefix the duration of patient treatment.

The unit comes complete with Air Compressor, One Lower Limb Cuff, One Upper Limb Cuff and Two Extension Zippers.