LASERTHERAPY UNIT (GIOTTO)
ANTIPHLOGISTIC ACTION; ANTIDEMATOUS ACTION; INTERSTITIAL LIQUID REABSORPTION; CELL METABOLIC BIOSTIMULATION; TRIGGER POINTS STIMULATION

GIOTTO is a programmable control unit for IR LASER emitter (λ = 905nm), suited for regenerative biostimulating and antalgic treatments.

It is possible to GIOTTO connect optional transducer handpieces. The transducers can have different dimensions and radiation power. This allows the operator to choice the best handpiece proper to the treatment to be done.

GIOTTO Classic is realized in two versions (1 or 2 channels).

GIOTTO Studio is a 2 channels mobile unit designed for in ambulatory professional applications.

In order to maintain the operatorís attention to the target, while the treatment is done, some handpiece have the parameters, shown on GIOTTO, repeated by LCD display.

GIOTTO has a security control system which automatically disables the LASER emission in the case of missed or wrong positioning of the emitting hand piece on the target.

CHARACTERISTICS:

High luminosity graphic display.
Controls of the unit made by one knob, keys or optional remote control.
Carriage easiness for at home treatment (Classic).
Arranged fixing of the unit to the trolley (Classic).
More than 30 stored therapeutic protocols.
100 customized programs.
Independent management of 2 different handpieces provided.
Handpieces with one, three, six LASER emitters.
Automatic scanning of the delivered frequency.
Visualization of the delivered energy (Joule).
Warning signal on the handpiece lighted during energy delivering.
Automatic recognition of the connected accessory.
Handpiece holder provided on the unit.
Activation after password acknowledgement.
LASER room door remote control disabling power erogation.
TECHNICAL CHARACTERISTICS
Mains Voltage
90-240 Vac / 50-60 Hz
Input Power
70 VA
Treatment Time
From 1 up to 60 min.
Output Frequency
From 0,5 to 10.000 Hz
Handpiece Wavelength
905 nm
Output Pulse Length
100 ns
Laser Safety Class
3B
Max Output Power
Handpiece Dependent
Electric Safety Class
1 BF
Size (WxHxD)
Classic 250x380x230
Studio 620x1050x600
Weight
Classic 5KG AND Studio 30KG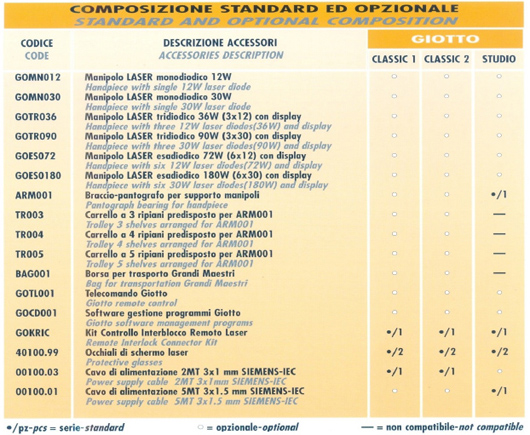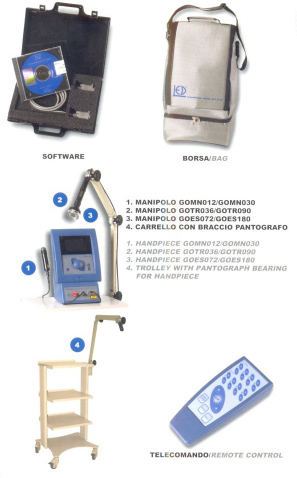 ---

ULTRASOUND THERAPY (DONATELLO)


PROGRAMMABLE ELECTROTHERAPY (LEONARDO)


MICROWAVE THERAPY (BERNINI STUDIO)


LASERTHERAPY UNIT (GIOTTO)


MAGNETO THERAPY (MICHELANGELO)


PRESSOTHERAPY (TINTORETTO)